Welcome to j4bGrants
Welcome to j4bGrants

The UK home of small business funding. Information on all the latest European grants, UK Government grants and other sources of funding to help start and grow your business.

Want to know more about applying for funding?

There are thousands of funding programmes in the UK to help with the costs of setting up or growing your business. Read our 10 Steps to Successful Applications to help you learn how!

Stay informed

Make sure you're informed of the very latest small business funding opportunities. Sign up to our weekly newsletter to find out what's new!

Bad Credit Loans
j4bGrants can help you find grants and other funding support such as bad credit payday loans to start and grow your business
Promote your business
Improve productivity
Buy equipment
Employ and train staff
Develop innovative products
Register for FREE now to find out what business grants are on offer to help boost your bottom line
.
No checks
Don't miss out on a funding opportunity! We can connect you with no credit check payday loans providers.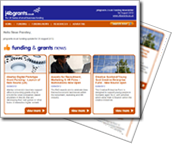 Already a registered user?
Latest News
08/12/2016

08/12/2016

08/12/2016

08/12/2016

08/12/2016

07/12/2016